New lifestyle images
We are pleased to inform you that we have expanded our image database with new lifestyle images. For now, there are images of all our popular rollators, but we will continue to expand our image database on an ongoing basis.

Here you can see some thumbnails of the new lifestyle images: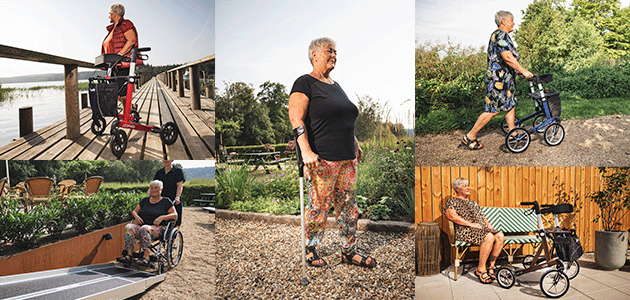 If you are interested in acquiring some of the new lifestyle images, please contact our marketing manager Anne Christine Halkjær Petersen. Please remember to state which variants you would like to get images of.
Contact Anne Christine to get lifestyle images
At the moment, we have lifestyle images of the following products:
Rollators:
- Buffalo (standard wheels)
- Gepard (soft wheels and standard wheels)
- Impala
- Leopard (soft wheels and RolloGuard)
- Lion
- Panda Comfort
- Panther
- Puma Air
- Tiger Outdoor
Other products:
- Seal wheelchair
- Dolphin wheelchair with fat wheels
- Koala shopping trolley
- Kangaroo wheelchair body warmer
- Forearm crutch
- Suitcase ramp DF-300
- Single-folded CB ramp