Mobilex A/S celebrates 20 years anniversary
Mobilex A/S was founded in August 2003 by Lars Nygaard and is celebrating its 20th anniversary this year.
From the beginning, we have had a desire to offer quality assistive devices for elderly and disabled persons. The product range started out small, but has expanded over the years and now covers a comprehensive range of assistive devices including rollators, wheelchairs, ramps, bath products and a wide range of spare parts.
Over the years, we have gone from selling directly to private consumers and dealers to now only selling to dealers. Our dealer list has grown continuously and today we distribute our Mobilex products throughout Europe to a total of around 2,500 dealers.
Fun fact: The first catalogue, which was created back in 2003, was 16 pages long - today the catalogue is 200 pages long.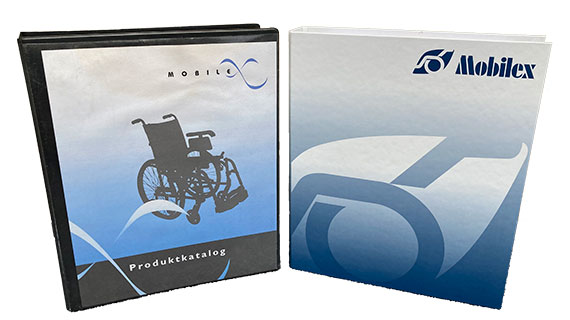 Fast delivery and great customer service
The philosophy at Mobilex A/S has always been that the standard items in the catalogue should always be in stock so we could deliver quickly to our customers - and that's still the case. We take pride in being honest with our customers and providing the best service. That's why we always greet our customers with a smile when they call and can usually serve them in their local language.
Motivated employees
Our success parameters are our service-minded and motivated employees. Over the past 20 years, we have grown from 4 employees to 22. Several of our employees have been with us for many years, for example our skilled technical sales manager, Torben Grand Jensen, who has been with us from the very beginning and is also celebrating his 20th work anniversary in August.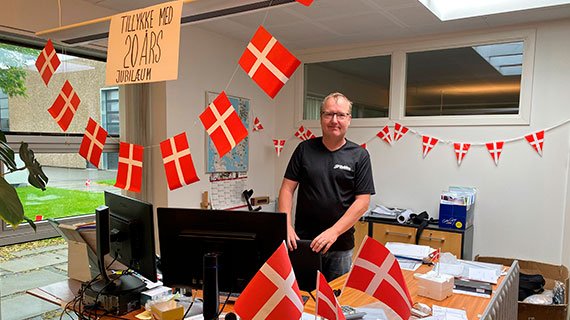 1th August 2023: Torben Grand Jensen is celebrating his 20th work anniversary in the office
Mobilex' development over the past years
In 2019, Lars Nygaard stepped down and Thomas N. Christensen took over as CEO. In the following years, we expanded by acquiring Mobilex Polen and integrated the company as part of Mobilex A/S. Subsequently, in 2022, Mobilex A/S became part of the Swedish group Asker Healthcare Group, which today is the majority shareholder. The collaboration with Asker Healthcare Group has contributed to making us even stronger today, and we look forward to continuing to deliver assistive devices to our good dealers and thereby contribute to "a better life in motion" for the end users of our Mobilex assistive devices.